Tempo Trainer Pro Basics
Let us introduce you to the Finis Tempo Trainer Pro. It is a waterproof metronome for swimming. You turn it on, place it under your swim cap or one a clip attached to your goggle strap. It creates a BEEP sound on the interval that you set with the buttons – that BEEP is beeping like seconds on a watch, and you control how many seconds there are between those BEEPs.
This is small, but extremely useful device. We would say it would be the most important part of your training gear after after your suit and goggles.
Coordinating The BEEP
In the most simple use of the Tempo Trainer Pro, you simply coordinate the movement of your stroke with the BEEP. You can coordinate that beep with any part of the stroke you want, anywhere on the body.
You could concentrate on timing the beep with one of these easily identifiable points in the freestyle stroke:
The fingers of your spearing hand cut the surface of the water in front
Your lead arm reaching full extension point
Setting the catch
Initiating the torso rotation
The timing of the kick
The Tempo Trainer can be used for the other three competitive stroke styles,  but it gets complicated when doing it with butterfly and breaststroke so we recommend you get skilled at using it on freestyle or backstroke before trying it on the others.
Tempo Trainer Instructions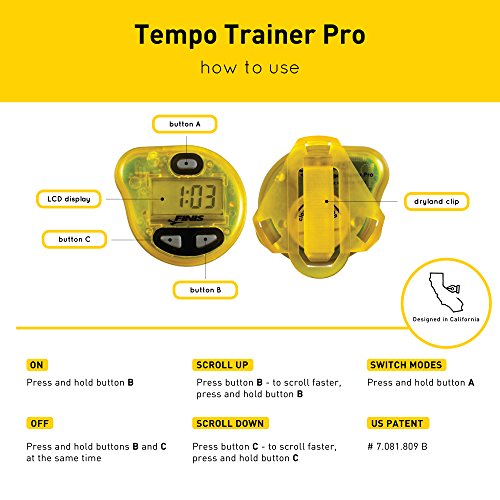 You may want to view the official Finis Tempo Trainer Manual (pdf download).
On the Tempo Trainer Pro there are three modes it can be set to. When you depress the top button for 2 seconds, it toggles between Mode 1, 2 and 3.
For most of our training assignments in the Dojo and in live training we use Mode 1, which works in 'seconds per stroke'. Mode 2 can be set for longer intervals, such as the seconds per length or lap, so that you can try to come to the wall on the BEEP. Mode 3 is an inverse of Mode 1, and works in units of 'strokes per minute' (SPM) – this is more useful for open water swimming, or is preferred by those who think more in terms of SPM.