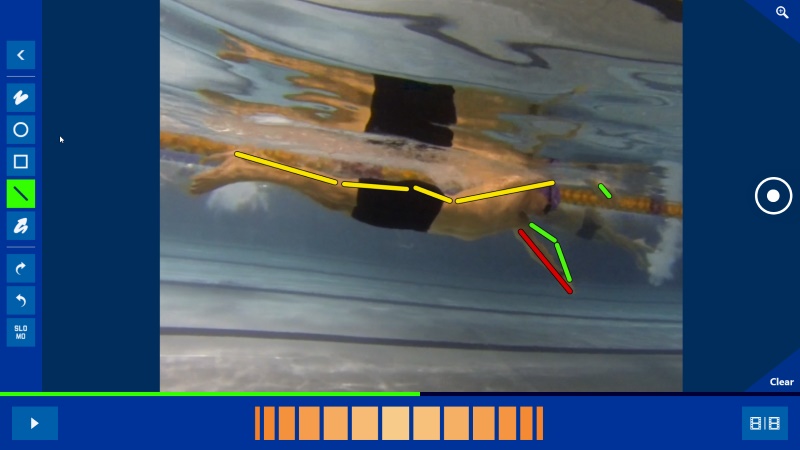 The video does not lie!
Although you are training to use your internal nervous system to correct your stroke and hold your best form, getting a periodic visual check-up is important for keeping those subjective senses calibrated.
Our video analysis will scan your body position and movement patterns to reveal your strengths and weaknesses and prescribe improvements according to our organizing principles – Balance, Streamline and Synchronized Propulsion – in that order of priority.
When provided ala carte (apart from participation in one of our online training courses), our thorough analysis and prescriptions tend to give swimmers enough improvement assignments to fill months of practice time. If you know how to practice already and just need to know what projects to work on, you should be more than satisfied with this.
When provided in conjunction with your participation in one of our courses we can select improvement projects and organize them in a way that fits into the assignments for that training course. Either way, you will be rewarded with value insights and instructions.
Price
$50 when ordered with membership in a course.
$80 when ordered ala carte (without membership in a course).
Duration
We will talk together to agree upon a schedule for when you will be able to provide the video and when we will be able to deliver your report.
Purpose
Video analysis is a powerful way to interpret your stroke through the TI lens to find your strengths and weaknesses and receive instruction to systematically improve those areas of highest priority.
Suitability
Video analysis is suitable for those newly learning to swim, and those training in Level 1, Level 2 and Level 3 skills.
Included
Access to our training library.
Access to your Personal Discussion Zone where your video analysis report will be published, and where you may ask questions and discuss the  results and instruction with your coach.
Video Requirements
We will give you our best with the video you provide. But please aim for these standards:
Take some practice shots first to make sure you get the intended view
Capture the full body in the video frame
Keep the camera very stable
Keep lighting behind the camera so that swimmer is illuminated (rather than put into silhouette). Have camera between swimmer and windows with outside light, or underwater lights.
Capture 8 to 12 whole strokes in sequence for each view
Swim with the stroke intensity that you want analyzed, appropriate to the event you are training for  (we need to see the real you!)
Most important viewpoints to shoot:
Underwater side view
Surface side view
Underwater front view
Surface front view
Bonus viewpoints:
Top view
Underwater rear view (to see more of your kicking pattern)
If possible, please save your video to .mov or .mp4 file format at 720p (1280×720 px) or less size.
Finally, you may upload to a file sharing site such as Dropbox or to WeTransfer (both services are free and behave nicely) then send us a link where we can download your videos.
Some times there are errors in the video file or format provided. We'll let you know if we run into problems getting the video loaded.